Hiring $28 Plus

Plumbing License
#055-042417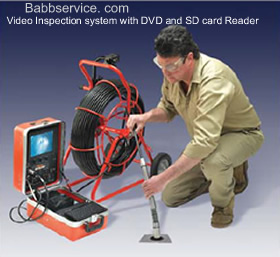 Video inspection system
DVD and SD card recorder.
Record crisp video or still images
at the job site. Providing a copy to
our customer
Babb Service Company, LLC is a licensed plumbing company and our licensed plumber is Thomas Laskowski.
Services:
-Plumbing Inspections
-Repairs
-Upgrading
-24 Hour Emergency 309-275-7862
-Remodeling Projects

We are available 24 hours a day 365 days a year ready to serve your residential, mobile home, and commercial needs.



All our technicians are professionally trained and certified.



One advantage of calling Babb Service is our ability to offer a whole host of services for the majority of your residential, mobile home, and commercial needs such as plumbing, heating, a/c, duct cleaning, mold remediation, radon mitigation, and electrical.

Indoor Air Quality -- Duct Cleaning
We can help you solve your indoor air quality problem. We have a complete residential, mobile home, and commercial duct cleaning service. We can install, service, and repair high efficiency filtration systems and humidification systems.
About our service and pricing
Our service call rates are $90.00 per man hour within the Bloomington-Normal city limits. For areas outside the city limits, the rate is $90.00 per man hour and the time starts from the city limits until we return. After Hrs 135.00 per man hr, We carry most parts needed on the service truck but if we need to order a part or go to a supply house to get parts, then this time is added to the cost of the part.
We are licensed, insured and bonded.
---
For more information, or a question concerning a particular problem you are having and just need some advice on what you can do to correct it yourself, you may send us E-mail and I will email the answer back to you, or pick up the phone and give us a call.
Babb Service Company, LLC
2247 Springfield Rd, Bloomington, IL
Office: 309-829-9455 After Hrs 309-275-7862