When the Lights Go Out, Count on Us to Kick In


Air-Cooled Home Generator offers 8-16kw of backup power to meet your family's basic energy needs during an emergency. It automatically responds to power loss and runs on natural gas or propane for easy fueling.
---
For best in stand-by generators
Sales and service and Installs
call Babb Service 309-829-9455
---
Bought a generator and need a electrician to install,
Call Babb Service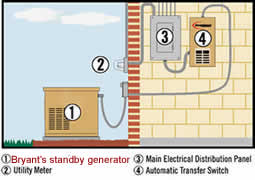 ---
Providing 24 hr emergency and warranty service. Babb's will: remove fallen trees, building debris and downed service wires, secure home site, repair outside service, and provide generator for whole house service (set up and service). So if you need emergency or insurance warranty service, call Babbs, 309-829-9455 Mobile 309-684-2443

About our service and pricing
Our service call rates are $90.00 per hour within the Bloomington-Normal city limits. For areas outside the city limits, the rate is $90.00 per hour and the time starts from the city limits until we return. We carry most parts needed on the service truck but if we need to order a part or go to a supply house to get parts, then this time is added to the cost of the part. We are licensed, insured and bonded.
Generator Service Maintenance: $169.00 this price includes Oil Kit.




Services:
For a Quote Click Here
GENERATOR WATTAGE CALCULATOR

Background on electric generators
Electric generators come in all shapes, sizes and prices and are used in many different situations. They might be used in industrial, commercial, or residential environments to supply backup power in the case of a power outage to your home; they can be used for stand by powering your remote cabin's appliances, and so on. Regardless of your intended use, Babb's will give you some basic information and insight that will help you find the right electric generator for you.

Features and functions to look for in electric generators
Since the basic function of electric generators is to supply electricity, the first question to ask regarding your situation is 'how much electricity do you need?' For home use, it's fairly straightforward to figure out the desired output of your generator. As a general rule, for emergency home power backup, average-sized homes between 1000 and 3000 square feet will require a generator that produces anywhere between 3000-5000 watts. To get a more precise calculation or for other applications, you can add up the number and types of electrical devices that will need to be powered at the same time. Add the wattage requirements for all of these devices together to find you overall wattage that you'll need from your generator.

Beyond wattage capacity, other features to look for when shopping for an electric generator include:

Sound- how noisy is the unit (usually measured in decibels)?

Fuel Supply- is the generator powered by gas, diesel, propane or natural gas? For home stand by units you can use the type of fuel supplied to your home.


All our technicians are professionally trained and certified.


Indoor Air Quality -- Duct Cleaning

---
For more information, or a question concerning a particular problem you are having and just need some advice on what you can do to correct it yourself, you may send us E-mail and I will email the answer back to you, or pick up the phone and give us a call.

Babb Service Company, LLC
2247 Springfiled Road
Bloomington, IL, 61701
(309)829-9455 Fax: 309-829-1290 E: dora@jbabb.com